2019- Fifth Bracknell Show
Bracknell Forest Lions club would like to say a huge thank you to everyone who supported them last weekend at the 5th annual Bracknell Show! Initial counts suggest that the club have raised over £5,500 for charity, including the generous show sponsorship from Redwood Technologies and Boeringher Ingelheim.
It was a wonderful day (despite the threatened thunderstorms!), opened at midday by the Town Mayor Isabel Mattik and special guest Sue Holderness (Marlene from Only Fools and Horses). From then on in it was a non-stop blur of activity- with the critters from Berkshire Reptile Encounters pulling in huge crowds in the hope of holding a snake or stroking a skink! Performers from Martins Heron School of Dance and Bracknell Gymnastics Club entertained the masses whilst kids could play in the free Lions play area or have a go at crafts provided by Nakita at The Creation Station.
There were ice-creams, vegan cakes, and burgers a-plenty, axe throwing, mini golf and archery too! Live music filled the air with Final Clause of Tacitus during the day and a range of acts including Abi Powell, Dave Bedford, Kris King, Keanne Le Moual, Tony Benett and Toxic Sofa into the evening where families returned with picnics to enjoy the atmosphere.
Lion President Paul said "We'd like to thank everyone who came along, bought a raffle ticket, spread the word or supported the event in some way. It's been a huge success- not only have we put on a wonderful community event for local families to enjoy but we've also raised a huge amount of money which we look forward to donating to those in need over the next few months."
Bracknell Lions raise funds to support local charities- in the last year they've supported Dementia-Friendly screenings at South Hill Park, donated items to the Pilgrim Hearts Night Shelter and made financial contributions to a huge number of causes including Project 73 and Festival Green Machine via The Ark Trust, CRUSE Bereavement Care, The Red Box project, Citizens Advice Bureau, the Me2Club and Give a Child A Chance to name just a few.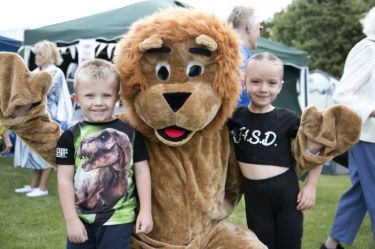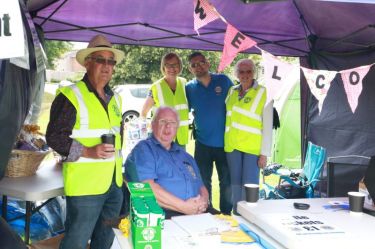 Check out these awesome YouTube videos of the live music acts!
2018
The good weather held for the weekend, and this years' Bracknell Show was another success! Pride of Bracknell "Team of the Year" drew on all their teamwork experience to put together a wonderful family day out on Saturday 21st July at Wildridings Playing Fields.
The Bracknell Show is now a firm date in the local calendar after another brilliant event this summer. The day offered over 40 stalls with a selection of food and drink, crafts, ice cream, charity stalls, and even a range of fun have-a-go-activities such as Tomahawk throwing, football darts, dry land zorbing, bouncy slides and a coconut shy! On top of this, the arena was buzzing from 12:30-4 with dance displays from Martins Heron School of dance, the Twister Cheerleaders and Bracknell Gymnastics club's finest Team GB gymnasts.
During the day the Lions volunteers held a charity raffle with a £200 top prize, a name the Lion competition and a cake stall too, whilst also chatting to local residents about membership of Lions and giving out "Message in a Bottle" packs for free. Message in a Bottle is a simple scheme, known to the emergency services, where important medical information (allergies, medicines etc) is stored in a marked container in the fridge. The pack comes with two stickers- one for the front door and one for the fridge door- and the packs location and contents can save the emergency services valuable time finding important medical information about the holder. These packs are particularly useful for the elderly and vulnerable and anyone who lives alone- and are offered free of charge through Lions International.
In the evening, families brought picnics and stayed to enjoy music from local artists Aj Acoustix, Abi Powell and Keanne, enjoying beautiful weather and a lovely sunset to top off the day. This year the sums are still underway but it looks like another success with over £2,600 being raised by the club alone, and further funds raised by the charities who brought along stalls including Cats Protection and local Scouts groups. Last year the Lions were able to support local and national causes such as Pilgrim Hearts Trust, YouthLine, Me2Club, DRUGFAM, Parkinsons and numerous others.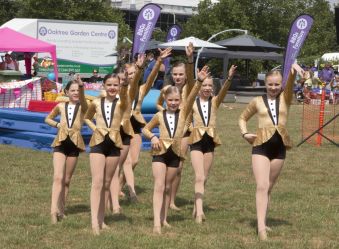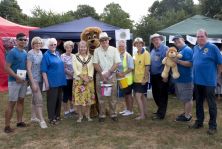 2017
Our most recent years show was pegged to be huge- with wonderful new sponsors Thames Valley Signs and Haart Estate Agents.
The weather on the day did us no favours, but the event was still well received and somehow we managed to raise over £2,600! The club are in the process of allocating these funds to worthy causes, including Bracknell Youthline, Citizens Advice and more. This year saw local band Red Tape Resistance doing two sets, some wonderful ballet displays and even better and more varied food being provided by great local catering companies. The Lions had their own cake stall selling all kinds of goodies, and waitrose kindly provided hundreds of plastic ponchos to try to keep us all dry!
Again we had some wonderful support from local companies, who either donated prizes to our raffle or sponsored the event in some way. Huge thanks to those listed below.
| | | | | |
| --- | --- | --- | --- | --- |
| Beale Park | Frankie & Bennys | Lookout Discovery Centre | SC Johnson | Venture Photography |
| Birdworld | Haart Estate Agents | Marc Antoni- Princess Square | Syngenta, Jealott's Hill | Whoosh |
| Blankson's- The Ironing Shop, Binfield | Halsa Chiropractic & Physiotherapy | Matrix Hair Design | Team Sport Go Karting | Waitrose |
| Boots- Princess Square | Harvester Bar & Grill | Morrisons Bracknell | Tesco Express, Forest Park | Wyevale Garden Centre |
| B-O-B Affordable Hairdressing | Hot Dogs Grooming | Oaktree Garden Centre | Thames Valley Signs | |
| Bracknell Leisure Centre Swimming Pool | Hollywood Bowl | Odeon Cinema | The Picture Company | |
| Co-op Funeral Care, Easthampstead | Homebase | Pets At Home | Timpson, Princess Square | |
| Country Mouse, Moss End Garden Centre | Jakes Play Barn | Pizza Hut | Total Tyre & Exhaust Co, Binfield | |
| Daruchini Brasserie, Binfield | KidsNAction | Ponden Home | Tropical Tanning | |
| Downshire Arms | Longacres Garden Centre | Sainsburys- Princess Square | Unique Hair Studio, Binfield | |

2016
We built on the success of the 2015 show with a bigger and better event for 2016. This time we raised over £2,500, which we donated to Pilgrim Hearts (a local homeless charity), food hampers for local families in need, donated to the Me2Club, donated to the MD Disaster Fund and raised money for the Gambia Appeal.
For 2016, there was have-a-go archery, displays from the UK champion gymnastics team and battle reenactment- with a healthy dose of sunshine, ice cream and smiles! We were also very lucky to be supported by Pauls Trust who helps us with some of the upfront costs of running the show.
We had prizes kindly donated by local companies and support and assistance from the following:
| | | | |
| --- | --- | --- | --- |
| Ballcock and Bits | Hot Diamonds | Sainsburys- Princess Square Bracknell | The Weathervane |
| Beale Park | Inner Sense Hypnotherapy | Scissor Shack | Timspon- Princess Square Bracknell |
| Birdworld | Kids N Action | SC Johnson | Tropical Tanning |
| BOB affordable luxury hairdressing | Leapfrog Ceramics- Moss End Garden Centre | Team Sport Go Karting | RTS Solutions |
| Boehringer Ingelheim | Londis- Great Hollands | Tesco- Warfield | Venture Photography |
| Boots- Princess Square Bracknell | Longacres Garden Centre | Tesco- Martins Heron | Victoria's Beauty- Harmans Water Shops |
| Bracknell Leisure Centre | Oaktree Garden Centre | The Co-Op Easthampstead | Waitrose- Bond Way |
| Costco- Reading | Panasonic UK | The Co-Operative Funeralcare- Easthampstead | Waitrose |
| Downshire Arms | Parafit UK | The Lookout Discovery Centre | WH Smiths- Princess Square |
| Fi's Papercraft | Pets at Home | The Picture Company | Whoosh |
| Harvester Bar & Grill- Bracknell | Sainsburys- Bagshot Road | The Quality Meeat Company, Great Hollands Square Bracknell | Wyevale Garden Centre- Binfield |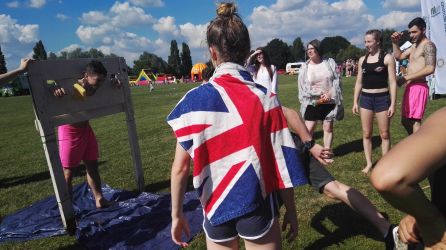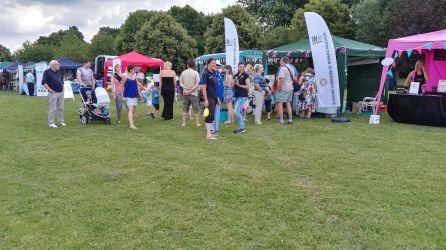 2015
Our first show back in 2015 was a bit of a test to see how we got on organising a huge event.
It was a success- with us raising over £1,700 profit which we distributed to local, national and international charities and good causes. These included the Serbia Appeal, local families in need, Bracknell College, The Scouts, the Me2Club, Parkinsons UK and the Children of Syria Refugee Fund.