100Words 100Pounds
Bracknell Forest Lions are planning to giveaway £1,000 in summer 2021 across 10 local charities!
To enter, you'll need to share with us 100 words about your charity and what £100 would do for you. Entries will need to be submitted via our "contact me" page here: /_contact.html
You'll need to add the name of your charity in the subject and "100Words100Pounds", then use the body of the message to tell us about your charity. Please ensure you add a contact email address and your charity number if you have it.
If you are nominating a charity to win the money, please add as many details as you have including a link to their website if you can.
T&C
1. Competition launched 11th May 2021. Closing Date 11:59pm on 31 Aug 2021 (Organisers reserve the right to close early or extend the deadline based on number of entries. Any change to this date will be publicised fully via social media and the website.)
2. Entries via the "Contact Us" section of the website only. No other methods of nomination will be accepted.
3. Bracknell Lions will be giving away a total of £1,000, split between ten local charities. In the event that less than ten charities apply, the £1,000 donation will be split equally amongst the applicants.
4. The £100 prize can only be received by either a registered charity or known cause i.e via social services. The Organisers reserve the right to withdraw an offer of donation if credentials for the charity or cause cannot be confirmed in a satisfactory way.
5. Entries are restricted to charities and causes within the Bracknell area or who support families and residents in the Bracknell area. Anyone can nominate a charity or cause as long as it fits within this criteria.
6. No purchase is required to enter a charity into the competition.
7. There is no restriction on the number of entries an individual can make for different charities, but a charity nominating it's self can only submit their nomination once.
8. Winners will be chosen by a pannel of judges (yet to be confirmed), and the judges decision is final.
9. Winners will be notified using the email address they submitted with their nomination, or in the event that they have been nominated by an individual separate to the organisation, Bracknell Lions will contact the organisation through official channels.
10. Any text submitted for the 100 Words 100 Pounds competition may be used in promotional material by Bracknell Lions.
11. Bracknell Lions will ask the nominator if they would like their name to be public or kept anonymous.
12. Representatives of winning charities will be invited to a cheque presentation evening in Autumn 2021 (subject to covid), and funds will be donated within 8 weeks of the competition closing.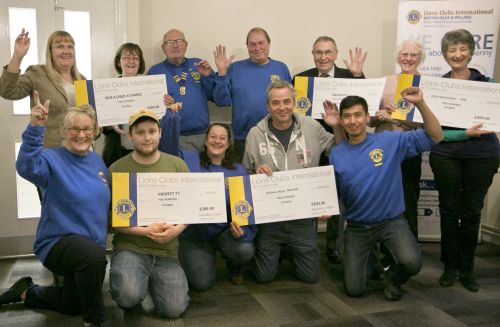 Cheque giveaway 2019