Message from the club president
Hello and welcome to our website!
Bracknell Lions club has been running since 1968, and has been through highs and lows.
Right now in 2023 we are a club that are proud that we manage to make a difference in our local area, whilst supporting some national causes too. Being a member of a Lions Club mean being part of a successful international community, and having friends all over the world. There are fantastic opportunities to travel, meet new people, be part of different committees and get more involved with local, national and international projects.
Covid 19 has put the breaks on our usual fundraising efforts, at a time when people really need us. We are continuing to receive requests from charities and individuals in need and trying our best to be creative and raise funds.
If you think you might be interested in joining our club, please visit our "Contact Us" page and drop us a line. We will invite you to a meeting, activity or social event so you can get a feel of what it is to be a member of Lions. Pop over to our facebook page to find out more about our activities.

Alternatively if you have a worthy local cause that you think we could help with- whether it's financial help or in terms of delivering a service please be in touch.
I've been a Lion for over 20 years, first joining my local "Leos" club who are the youth faction of Lions International. I've been a member of Bracknell Forest Lions Club in summer 2009, and have taken on a number of different roles in the club over the last 14 years.
The club has seen a lot of change over the years and we're having a bit of a fresh start , with some wonderful new members and sadly a few very active members who have moved away recently. We'd love to grow our membership and build up our ability to deliver events and activities, raise funds and get them distributed out to the community. Please get in touch if you're interested in joining us or if you have any wonderful ideas about how we could help!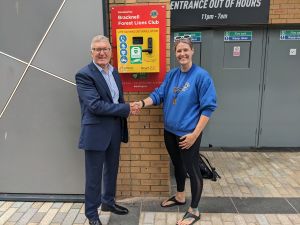 Clare- Club President